What Is Philippine English and Filipinisms?
Learn the English of the Filipinos: the Philippine English!
Whenever talking about kinds or dialects of English, most people will immediately think about two things: American English and British English. In most cases, while pitting the two against each other. But we are not here to debate which is correct between "bathroom" or "loo". No. We are here to talk about one of the lesser known varieties of English, the Philippine English.
Imagine this.
You are in a Filipino fiesta. The hosts are serving Pinoy cuisines buffet-style. There's morcon, afritada, caldereta, kare-kare, lechon, dinuguan, bulalo, lumpia, chicken and pork adobo, and at least three kinds ofpansit. And they didn't stop there. There are also desserts like buko pandan, leche flan, puto, kutsinta, ube halaya, and halo-halo.
Imagine fitting all of those in one photo.
After your second serving of buko pandan, you realize that you have some… business to attend to in your hosts' bathroom. So, there you are, sitting on the toilet, minding your own business, and you see it— or the lack of it. They don't have any tissue paper!
What will you do? Well, sit back and relax on your porcelain throne, and…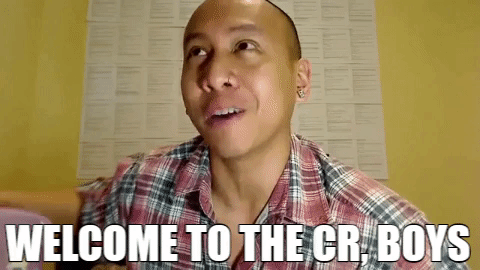 We wash with water and soap, son.
You just graduated Filipino Comfort Room (CR) 101! And that is just one of the many English innovations you will encounter in the Philippines!
Philippine English
Now, you might know that Filipinos have some level of proficiency in English. But, did you know that the Philippines landed on number 15 over 80 countries in Education First's English Proficiency Index for 2017? It may not sound much at first, but the Philippines has the higher level of proficiency compared the average score of Europe, the region where eight out of the top ten countries by English proficiency are located.
That being said, Filipinos have their way of adding that unique Filipino-touch to the otherwise, language of the foreigners, English. Philippine English, or as other people would it Filipino English, is simply the version of English used in the Philippines. Just like how America has American English, Britain has British English, Singapore has Singaporean English, India has Indian English etcetera, etcetera… the Philippines has Philippine English.
Filipinisms
If this is not the first time you encountered Philippine English, you may also know some Filipinisms. For those who are not familiar with the word, Filipinisms are words, phrases, or sentences that are unique to Philippine English.
Despite what grammar nazis may say or think, these Filipinisms are not wrong or mistakes per se. Some of them may have started that way, but another way of thinking is these are just unique features English eventually have when it is used in more than one place.
In this post, we'll try to compile all of the Filipinisms you may encounter in the Philippines, or in your Tagalog-learning journey. Here are some of them:
I'm taking up (insert degree program here)
– Instead of "I'm taking" or "I'm studying"
What's your course?
– They meant "degree program"
Commute
– In the Philippines, "commute" is more than the travel between one's home and place of work on a regular basis. It means to travel using the public transportations regardless of destination. Basically, it is whenever you are not using a private car.
Traffic
– Filipinos use the word "traffic" differently. In addition to using it as a noun, Filipinos also use it as an adjective, exclusively for describing heavy traffic.
Time first!
– Instead of "Time out!"
Last September 2008
– Instead of "In September 2008"
Next next day/week/month
– Instead of "the day/week/month after…"
Last last day/week/month
– Instead of "the day/week/month before…"
Fill up the form
– Instead of "Fill out the form."
Hand carry luggage
– Instead of "carry-on luggage"
Boodle fight
– A military style of eating, "boodle fight" is a symbol of brotherhood and equality among Filipino military by sharing the same food without regard to rank. The food is often served over clean banana leaves and spoon and fork are not used. Now, it is also practiced by non-military Filipinos.
Photo by Avel Chuklanov on Unsplash
Take home
– Instead of "take out" or "to go"
Bottomless drinks
– Instead of "refillable drinks"
Please, hold your line / For a while
– Instead of "Please hold."/ "Would you mind if I put you on hold for a second?"
It's for free!
– Instead of "It's free!"
Free gift!
– A phrase used by marketers in the Philippines to entice buyers with bonus products
She delivered her baby yesterday
– Instead of "She had her baby yesterday." or "the midwife delivered her baby."
Open/Close the lights
– Instead of "Turn on/off the lights."
No parking on both sides
– Used in traffic signs instead of "No parking: Both sides of the street" or "No Parking: either side of the street"
We will update this blog post every now and then to compile all of these Filipinisms. Just remember that English, or any other language for that matter, is living and ever-changing. It just so happened that some of these changes happened in the Philippines.
How about you? Would you start using Filipinisms in the Philippines? Feel free to tell us what you think in the comments!
If you liked this post and want to learn more, download our e-book or take lessons with us. Ask for your free trial today!
References: